General News
Apam Surviving Boy Reveals – "We Were Not Homosexuals. The Beauty Of The Girl Was Like A Magnet".
In some few days ago Ghana was struck with a very pathetic news as it was confirmed that some 12 children got drowned at the Apam beach with some other four being fortunate to be rescued alive.
Ever since this sad news broke out, there have been several interpretation from several people as to what actually caused this sad incident to befall the country. Some attributed it to the fact that the gods of the Apam land got angry because the children were practicing homosexuality at the beach. Others speculations also suggests they were taken by a marine spirit.
Though one of the only survivor of the sad incident has given his own account today as to what actually happened. According to him they used to go to the beach to play a football game aside the routine swimming they do every Sunday which they term it as Sunday special.
He revealed, on that fateful Sunday, as they were at the beach playing the football game, a strange girl, whose beauty was like a magnet suddenly appeared at the beach and all of a sudden her beauty caught the attention of the boys there. As a result they all started approaching the girl and quickly the tide struck and got them drowned.
When he was asked how he survived, he replied that he was actually one of those drowning at that moment, but surprisingly, he saw a very tall strange man who appeared in the water to pull him out where he went unconscious after that.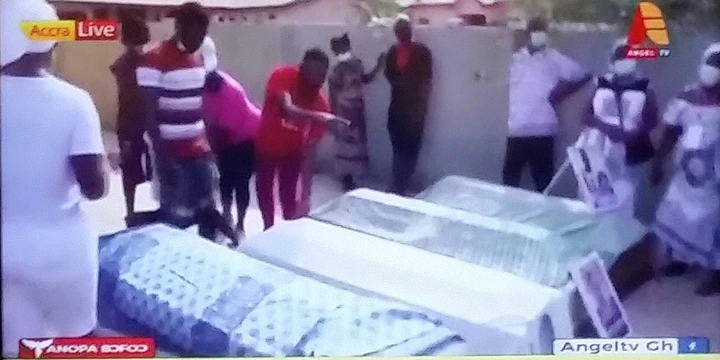 The burial service of the 12 dead victims is still ongoing at the Apam community centre.
Send your condolences to the bereaved family and farewell and Rest in Peace to the deceased children.