General News
Top Story
"You'll never hit again" – Shatta Wale 'curses' Kwaw Kese for supporting Nigerians (Screenshot)
Two days ago, Mad Time boss, Kwaw Kese blasted Shatta Wale for waging a worthless war against Nigerians over their lack of support for Ghanaian musicians and other African music artists.
According to Kwaw Kese through a series of tweets he authored on the bird app, Shatta Wale shouldn't be taken seriously by both Ghanaians and Nigerians because he's a big-time "fan fooler".
He also described Shatta Wale as a "Toy Soldier" in one of his tweets and the comments under it were very hilarious.
Well, Shatta Wale has finally reacted to Kwaw Kese's bashings and slandering and according to him, he will never hit again.
In Shatta Wale's rebuttal tweet, he cursed that any Ghanaian artiste who holds the notion that he is fighting Nigerians will never hit again.
He also urged Kwaw Kese to be a man of balls for once and speaks his mind to authority.
Shatta Wale tweeted;
"Any Ghanaian artiste who thinks am fighting Nigerian artiste will never hit again
This is business not Yo yo … stop that grasshopper mentality and Speak proper ..You are killing you inner spirit"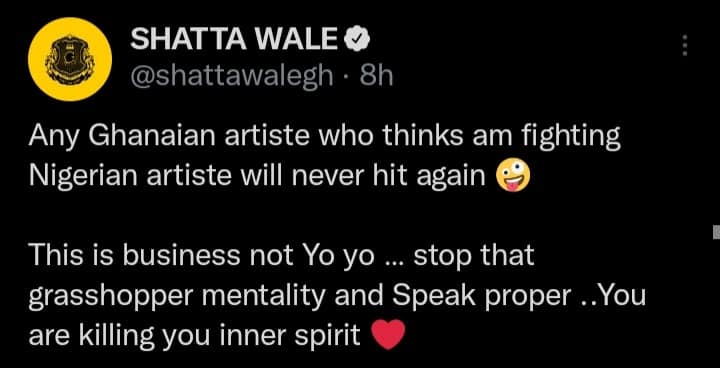 Meanwhile, Stonebwoy has wholeheartedly vouched for Shatta Wale's fight against the excessive play of Nigerian songs in Ghana which has made our artists appear like an untalented group of people posing to be musicians.