General News
OMG : Immigration Officer Crushed To Death In Gory Motor Accident | PHOTOS
A recruit with the Ghana Immigration Service (GIS) has perished in a ghastly motor accident at Jeway Wharf Junction in the Jomoro Municipality of the Western Region.
The deceased, Hannah Nwole, a 33-year-old officer, was stationed at Jeway Wharf.
According to eyewitnesses, the deceased was on her way to work on Monday, May 3, 2021, at about 5:50 pm when the incident happened.
"Ms Nwole was travelling on a commercial motorbike from Jeway Wharf to Anomatoape Checkpoint where she was detailed to report for duty," a witness said.
The deceased sat at the back of a commercial motorbike without a helmet and with both legs on one side of the bike.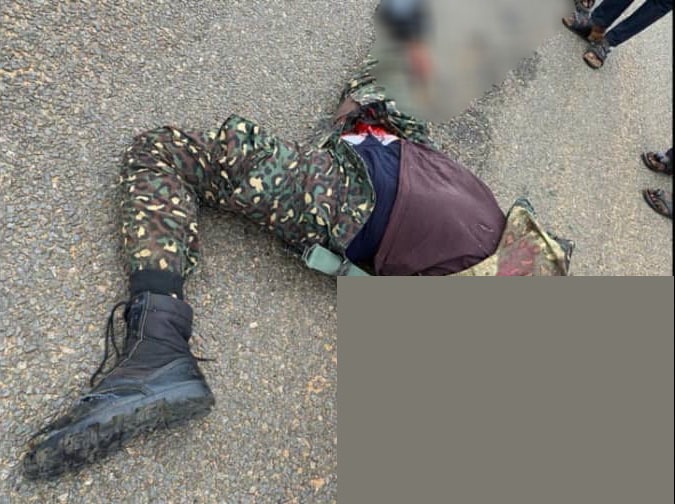 After a sharp turn by the rider, she lost balance and fell off the bike at the Jeway Wharf junction.
A cargo truck travelling on the same road rammed into the motorbike, smashing her head and other parts of her body into pieces.
Her brains gushed out of her skull as the oozing blood spilt on the street.
She died instantly.
Her body has since been deposited at the Half Assini Hospital morgue awaiting autopsy.
However, the rider escaped unhurt.
Motorcycle accidents pushed road fatalities to the highest since 1991
Ghana recorded the highest road traffic fatalities in the last 30 years due to increasing motorcycle accidents in 2020.
Unlike previous years, motorcycles were involved in the most fatalities, with 1,056 deaths and 4,684 injuries from  5,684 motorcycle crashes.
A year before, there were 4,643 motorcycle accidents which contributed to 732 deaths and 3,474 injuries.
This shows a 44% rise in motorcycle deaths from 2019 to 2020.
Motorcycle classification comprises motorcycles (two-, three-, and four-wheeled), bicycles, and handcarts.