General News
She will soon feel the heat of her extremely reckless and irresponsible comment – Koku Anyidoho.
Koku Anyidoho has spoken about the running mate of John Dramani Mahama for making certain comments which he, Koku Anyidoho do not agree with.
Jean Mensah became the running mate of John Dramani Mahama when no one thought the national democratic congress would make such a decision to employ a female as their running mate. This was made possible as the first of her kind in the history of Ghanaian politics.
Jean Opoku-Agyemang worked hard and was seen here and there during the 2020 general elections. Despite her age and a first time experience in the world of politics headed by men, she worked hard and brought the election numbers very close to that of Nana Akufo-Addo.
In a post made by Koku Anyidoho a while ago, he made this unexpected comment in which he claims the running mate didn't speak well and didn't show respect for the men who founded the Ndc party and are the roots of the party. See the post made by Koku Anyidoho in the picture below.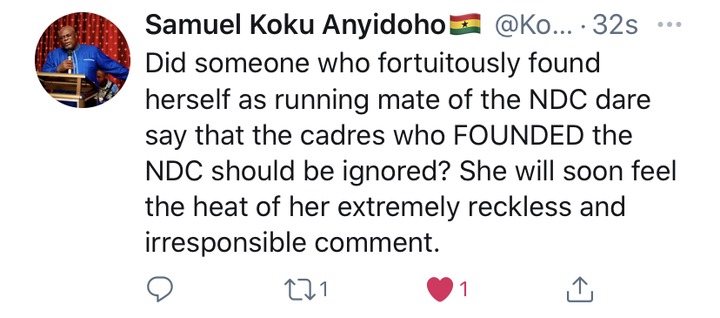 He claims she said the founders of the Ndc should be ignored even though it is something we have not seen as directly stated by her as Koku says.
Send us your articles for publication via whatsapp +233545900000